Adrasan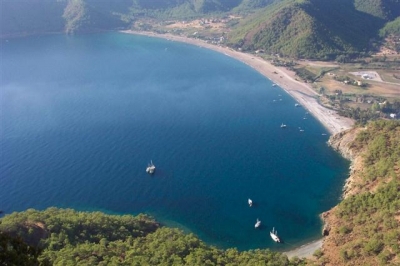 Do you have an exhausting or boring job?
Are you stressed by struggling in the city? Are you looking for a quiet desolate beach, where nature is at it's best, to spend your summer holiday?
Adrasan, with it's new name Cavus Koy is the place for you. Do you want to wake up with the smell of orange, pomegramate and pine trees?
Do you want to swim in the calm sea?
If the answer to these questions is yes, then Adrasan, one of the Mediterranean's hidden treasurers, is the place for you! Experience calm deep blue sea, the unmatched 2km beach and un-touched pine forests of Mount Bey.
You can join daily boat-trips to explore the wonderful bays and islands off Adrasan. Most of which can only be seen by a boat. There are two different routes. If you choose the one going to the west, you can see Cape Gelidonia and Five Isles and swim in the turqoise water of Sulu Ada (an island with a fresh water spring). Sulu Ada is also a place where mediterranean seals stop off. If you choose the other route going to the east you can swim in Sazak coves and walk through ancient Olympos.
You won't want to leave Adrasan!