Walking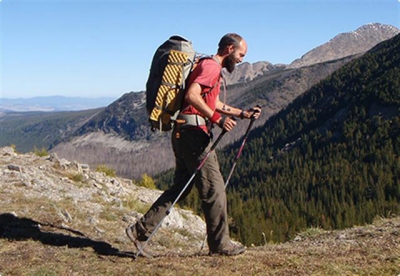 Lycian Way is waymarked hiking trail in south Turkey, connecting Fethiye in the west with west of Antalya in the east along the Lycian shore.
Lycian Way is long, if sometimes a bit tiresome, to get a sense of true Mediterranean Turkey, away from crowded beaches, comfortable hotels and palm trees.
The Lycian Way is 500 km long and stretches from Fethiye to Antalya, around part of the coast of ancient Lycia.
It takes its name from the ancient civilisation which once ruled the area. The route is graded medium to hard; it is not level walking, but has many ascents and descents as it approaches and veers away from the sea. It is easier at the start near Fethiye and gets more difficult as it progresses. It is recommended that you walk the route in spring or autumn; February-May or September-November. Summer in Lycia is hot, although you could walk short, shady sections. The route is mainly over footpaths and mule trails; mostly limestone and often hard and stony underfoot.
Partial list of places on the trail
Ölü Deniz, Kabak, Kınık (Xanthos), Akbel, (detour for Gelemiş village and ruins of Patara), Kalkan, Kaş (Antiphellos), Üçağız, Kale, Demre (Myra), Kutluca, Zeytin and Alakilise. Here the trail reaches a height of 1811 meters at İncegeriş T.. Then on to Belos, Finike, Kumluca, Mavikenic, Karaöz, Olympos, Çıralı. Here the trail splits into:
Coastal route: Tekirova, Phaselis, Asagikuzdere (just outside Kemer)
Inland route: Ulupınar, Beycik, Yukari Beycik, Yayla Kuzdere, Gedelme, Hısarçandır.
Get in
Both Fethiye and Antalya are well-connected to most cities in the country by inter-city buses. The nearest international airports are located at Dalaman for the western trailhead and at Antalya for eastern end.
It's fairly easy to get to western trailhead by minibuses (dolmuş, take those heading for Ölüdeniz, and get off just south of Ovacık/Hisarönü roundabout, at the large sign of 'Montana Resort Hotel') or even on foot from downtown Fethiye.
Fees/Permits
There are no fees or permits to be taken care of for trekking or camping along the Lycian Way.
Understand
Investigated and then waymarked by Kate Clow, a Britishwoman living in Turkey, with the help of a number of volunteers and Turkish Ministry of Culture in early 2000s, Lycian Way connects a number of villages, mountain hamlets, Lycian and Roman sites on its route and ranges from 0 mt (sea level) to 1,800 mt summit of Mt Tahtalı (known by the name Olympos in ancient times) at elevation. It's not a single footpath that has been intact since times immemorial, rather it's a collection of ancient paths, mule and caravan trails, forest and backcountry roads. For many sites, it's the most convenient way to get to, and still many others let themselves to be enjoyed only by those taking the effort to hike the trail.
Although there are some hikers doing the whole trail in one go, most people prefer to do it in sections, and in fact some sections are more popular than others. Some short sections of the trail near the major towns can even be regarded as a day trip.
Once littered, it is very hard to clean the trail up, as it mostly lies on a remote and rugged territory. Therefore, following leave-no-trace guidelines is important. Also, think ahead carefully about what you will need and what you won't, as anything that is regarded as "trash" will need to be carried to the nearest garbage bin - a convenience even some of the mountain hamlets completely lack, let alone the trail itself.
April-May and October-November is reported to be best to hike the trail, as it's warm (but not infernally hot unlike in summer!) and not rainy (unlike winter) during these months.
Signs and waymarks
The standard waymark of Lycian Way is a half white, half red rectangle. There is no uniform distance between each marks along the route, when the trail start to twist and turn, they become more frequent and when the trail lies as a straight line, converting into an easily-visible path, then they become rarer. They are mostly painted on rocks along the route, though you can also spot some on utility poles, garden walls, or on the actual path itself.
Side paths straying from the main trail -and usually arriving in very off-the-beaten-path sites (in a literal sense!)- have marks similar to the standard rectangles, just yellow replaces white.
Other waymarks include a "turning" or an "S" rectangle (again half white, half red) with an arrow on, which mean there is a curve (or S-curves) coming ahead. They sometimes can be found immediately before the curve. A "red cross" is marked on "wrong" trails and roads, usually accompanied by the standard rectangle painted on the "correct" way.
Once every five or so years, a number of volunteers replenish the waymarks. However, in the meantime some local villagers, at their all good will, repaint the marks on some sections and this may cause the new marks shifting a few (hundred) metres on either side of the actual trail. However, this is not a very big problem as the "new" marks will join the "old" marks somewhere in some way, so you will not get lost even by following these "accidentally" painted marks.
Signs, easily-recognizable, distinctive yellow arrows with the header Fethiye'den Antalya'ya Likya Yolu, i.e. Lycian Way Fethiye to Antalya, are nowhere as frequent as the waymarks, but still can be seen, and indeed are useful, on most junctions (where for example trail separates from a main road) and at village exits. They name the next destination on it with the distance in kilometres. Note the distances on signs are approximate, so don't worry if you see the distance going up or down by 1 km on the next sign.
Prepare
You may consider bringing in:
Maps — Maps, usually available with some guidebooks, may be useful for spotting the water sources at least, but they are not absolute necessities to follow the trail as waymarks are sufficient to do that. Some maps, with varying degrees of detail, can also be found online for free. Keep in mind that Turkish government still doesn't let large scale maps of the area (or anywhere else in the country for that matter) to be reproduced for private, non-security uses though, so even the best maps (including those provided within Kate Clow's guidebook) show only a fraction of details.
Tent and camping gear — While you'll find some kind of accommodation (mostly family-run guesthouses) in some villages (usually separated from each other by a distance of average daily walk) along most of the route, there are some sections where wild camping is your only choice for two nights on a row. Even if you don't plan to hike such a section, camping is a great way to reduce your accommodation costs and having camping gear at hand gives much more freedom: Who wants to walk the further 5 km to the guesthouse you plan to overnight while you are totally exhausted and are standing against a gorgeous view? But this choice, of course, has a toll: The lighter the backpack, the happier you will be.
A torch — To have a torch or some other source of light is a must as no part of the trail, apart from those traversing the villages, is illimunated at night, and it quickly becomes a nightmare to follow the waymarks once the night sets.
A phrasebook — Bring in a Turkish phrasebook as the trail goes through really remote mountain hamlets and most villages along the route hardly sees any non-locals, let alone foreigners, other than the hikers - although sometimes only a few km (and a good deal of elevation) separates these remote villages from mass tourism.
Bottles and bottles of water — Hot and dry Mediterranean climate reigns the area, and you'll need lots of water. If it's summer, be ready to walk under the scorching sun for 3-4 hours straight without ever seeing a source of water in some sections of the trail.
Walk
While the official start of Lycian Way is in Ovacık, the northern suburb of Ölüdeniz, you can hike it all the way from Fethiye (about 15 km away from Ovacık, and the hub of the region) without having the need to referring to road sides with the help of adjoining trails.
Sleep
There is a variety of lodging (mostly family-run guesthouses and some campgrounds) in some of the villages along the route, usually 10 km inbetween. However at some remoter sections, wild camping is your only option. Plan ahead to see whether you will be needing camping gear or not.
Stay safe
You'll be mostly fine and safe by following the marks and keeping on trail, but there are certain things that one should be wary of.
Do not take shortcuts. Waymarks will lead you where you should be going. In fact, what may seem as a shortcut may take you to a very different direction than you should be heading.
Scorpions thrive in this hot region and stony/rocky areas —especially under the rocks— are their habitats. So never remove a rock unless you absolutely have to. Keep zips of your backpack and tent always locked. Check and shake your shoes before wearing them. Snakes are less of a concern, however be wary of them near streams.
By sweating, you don't only lose water, but you also lose sodium, which is just quite as serious as dehydration - and you will sweat a lot on Lycian Way. Pack along sports drinks (usually available in Turkish supermarkets) or fortified powdered drinks (generally not available in Turkey). Having a salty soup at the end of the day will also balance some of your sodium loss.
If you pitch a tent at the feet of Mt. Babadağ (around Kozağaç and Kirme), be wary that a very strong wind comes suddenly almost out of nowhere at around midnight and keeps blowing until the early morning. Make sure all of your stuff is neatly placed away from the cliffs and the tent is wind-proof and secured to the ground. Also don't camp on the way of falling rocks near Kozağaç (the grey sands area).
Contact
While you may receive a weak signal in some parts of the trail, you'll be mostly out of GSM coverage while hiking in the remote parts.
Get out
If your legs are not sufficiently tired yet, why don't you give the Saint Paul Trail, which is another 500-so km waymarked trail lying between eastern suburbs of Antalya and Yalvaç up in the north that is even wilder and more remote, a try?